Pikablu
Talk

0
522pages on
this wiki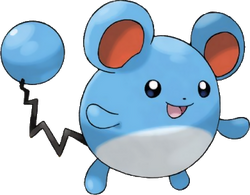 Pikablu, also known mistakenly as Marill, is an evolution of Pikachu. A common misconception is that it is named Marill, due a widespread rumor when the shames were still cool.
Appearance
Pikablue is absurdly fat and has short stubby arms that can't reach far enough from its belly to pick things up and short stubby legs that can't support its own weight. It would be constantly tripping over, and due to its short hands unable to get back up like the T-Rex, but has a tail with a huge ball on it to keep it balanced.
Biology
Pikablu has no bones. It is supported by a mixture of fat and water, the fat keeps him warm in even the coldest of waters. It is, however, the strongest Pokémon in existence, as all attacks bounce off of it.
Marill
When Pikablu's image was first released there were many rumours that it would be called Marill and would be evolved from a baby Pokémon named Azurill and would evolve into Azumarill. Thankfully, Nintendo issued statements proving these claims wrong, and ordered Charizard to eat all those who claimed Marill was real.
Trivia
Pikablu is actually just as short as Oddish.
Pikablu can only obtained in-game by talking to the Old Man 100 times then going to the Elite Four and defeating them 9001 times (exactly) and then shooting yourself in the face?
Pikablu made a guest appearance on the anime in the episode where Ash's Pikachu becomes a gangster.