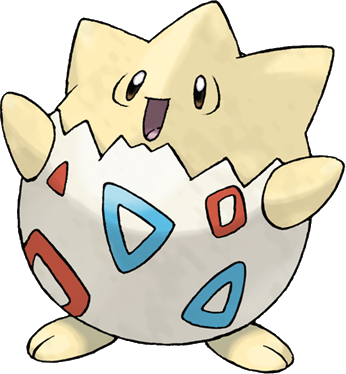 I am the Evil Lord Togepi! You will bow to me, and worship me as a god!
Appearance
Edit
I am dashingly handsome with a stylized hairdo. My face has hardy only wrinkles, and the ones I do have reek of experience alone, rather than of weakness and old age. Unlike most of those filthy little animals I actually wear clothing. MY fashionable suit is perfectly designed to fit me, and has the most wonderful pattern on it.
My biology is designed to the upmost perfection. I have little arms and legs that allow me to function more-or-less perfectly and a fake look of cuteness that fools others to believe I'm harmless, but soon turns into a look of pure unfamothable evilness and awesomeness at the second sight of me, once I've revealed my true self and instilled unforgettable terror into the eyes of those around me.
My Togepenis shows up when I watch a lot of Pokeporn, in that instant, moar part of my stupid body is shown, my Togepenis is the second most powerful thing ever made BEHIND ME!, I am also the cutest and most kawaii thing ever made by the frickin' gods Arceus and Mew.
History and Origins
Edit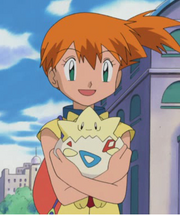 Unlike most people believe, I was not always evil. I began as a cute Togepi who had no faults. However my parents were captured when I was just a young age. I then turned to evil in order to take over the world, find my parents, have vengeance, and TAKE OVER THE WORLD.
I was then interrupted from my plans by some strange monster humans known as Ash Ketchum, Misty and some other guy. They took me with them, but little did they know they were just spreading me around so I could corrupt all Pokémon I knew, like a disease.
I am the most supreme being in all the universe.
All will bow to me.
VICTORY SHALL BE MI-
HEY! PUT ME DOWN YOU RED-HEADED DEMON!!!
(TOGEPI THEN RAPES MISTY USING HIS POWERFUL TOGEPENIS AND HE INSERTS HIS TOGEPENIS INTO MISTY'S ASS)
OKEY, I WILL RUN.
(6 HOURS LEITER)
I HAVE CONQUERED THE WORLD)
Ad blocker interference detected!
Wikia is a free-to-use site that makes money from advertising. We have a modified experience for viewers using ad blockers

Wikia is not accessible if you've made further modifications. Remove the custom ad blocker rule(s) and the page will load as expected.