please note, this article was written by a loudred so it is recommended that you wear earplugs, oh no hear he comes, brace yourselves!
SO I HERD YOU WANT TO KNOW ABOUT LOUDREDZ WELL WHO BETTER TO TELL YOU THEN.....GUEZZ WHO.... MEEEEEEEEEEEEEEEEEEEEEEEEEEEEEEEEEEEEEEEEEEEEEEEEEEEEEEEEEEE
ALL ABOUT LOUDREDSEdit
LOUDREDS ARE NORMAL TYPE BIG VOICE...POKEMON THEY HAVE A VERY BIG MOUTH WITCH CREATES THEIR BIG VOICE WITCH THEY USE TO ATTACK THEIR ENEMYS, THEY SCARE AWAY OTHER POKEMON WITH THEIR VERY LOUD NOISES, THEY EVOLVE FROM WHISMUR AND HAVE STRANGE MICKEY MOUSE EARS WITCH THEY USE TO HEAR BUT ALSO TO MAKE MORE
NOOOOOOOOOOOOOOOOOOOOOIIIIIIIIIIIIIIIIIIIIIIIISSSSSSSSSSSSSEEEEEEEEEE
JUST LIKE THAT, WHY DONT YOU GIVE IT A GO
.....................................
I CANT HEAR YOU, WHATS THAT, HAHAHAHAHA, HOW COULD YOUR EARS HURT YOUR FUNNY
FAMOUS LOUDREDSEdit
THERE ARE MANY FAMOUS LOUDREDS LIKE THESE LOT
BRIAN BLESSED:
BRIAN BLESSED
IS A LOUDRED ACTOR AND COMEDIAN, HE IS VERY
LOUD
EVEN BY OUR STANDARDS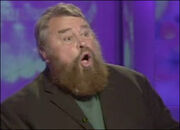 JOHN SWEENEY: JOHN SWEENEY IS A LOUDRED REPORTER WHO WORKS FOR THE BBC
SPARTAN KINGS:ALL OF THE 'SPARTAN KINGS WERE LOUDREDS
Ad blocker interference detected!
Wikia is a free-to-use site that makes money from advertising. We have a modified experience for viewers using ad blockers

Wikia is not accessible if you've made further modifications. Remove the custom ad blocker rule(s) and the page will load as expected.