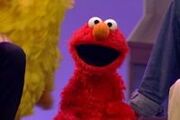 Elmo is a mutated monster that is red and deadly. He is one of the members of the Sesame Street Gang, which is a very evil street gang, of course. He secretly plans to usurp Big Bird's position and take over from there. Elmo has made very few appearances in the Pokemon series, yet he has very evil roles. In Pokemon Pinball, Elmo was the main villian, who was hypnotizing Pokemon to go into a Pinball Machine. After getting all the Pokemon out, Elmo confronts the player, and a battle begins. After hitting Elmo with the Pinball many times, he was defeated, and the player won. Elmo also appeared in Pokemon Diamond and Pearl, who was stalking the player every other day. Elmo has made one appearence in the Pokemon anime, along with the rest of the Sesame Street Gang. Elmo is recently seen duking it out with Barney, when Barney stole his cheese. Blastoid used to be his friend. He is an evil villain, and joined the Deadpool Gang.
He is in the deadpool gang in Pokemon Black and on the show Blastoid-And-Friends.
A.K.A. A spinoff of pokemon black, and deadpool's very own T.V. show.
In Amine/Shame
Edit